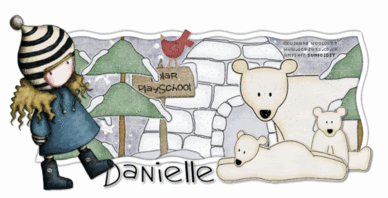 Artwork©Suzanne WoolcottYou can purchase suzannes work at
gorjuss art
Not to be used without a licence to do so.ScrapkitPolar Pals by
DMK Designs
Get it
Here
Animation
Here
Open a new image 800 by 600
With your selection tool draw out a rectangle
Length Roughly 3/4 of the size of your Working image
Floodfill with white
Selections > Modify > Contract by 20 > Hit delete
Selections > Select None
Layers > Duplicate Click back to the original raster
Adjust > Hue & saturation > Hugh & SaturationLightness > -100
so the original is now black.
Adjust > Blur > gaussian Blur 1Merge visableEffects > Distortion effects > wave Horizontal Amplitude 1 Horizontal
Wavelength 41Vertical
Amplitude 1Vertical Wavelength 13
OK
Image > Resize by 80%
Magic wand inside the frame you have made
Selections > Modify > Expand by 5Copy and paste a paper of choice as a new layer
Hit delete & drag that layer beneath your frame in your layer palette.
making your background scene
Resize the elements to your liking and then paste as new layers
Paste then in the order you wish them to show
i pasted the igloo , then the Wooden sign, trees then the polar bears.
After each element add hit delete to remove excess.
Once all your elements are added Selections > Select None
Click on the Wooden sign and add some text.
click onto the top layer in your layer palette
Start to add your Tube and elements that are outside of the framework.
Once happy add your copyrights & name
.At this point crop to remove excess white around the tag
Now x out all the top layers in your layer palette one by one untill you have hidden all above the frame & the frame.
Now merge visable what is left showingcopy and paste in AS as new animation
Hit CTRL L 19 times
So you now have 20 frames
Go back to Psp X out the bottom Layer and unhide the top layers
MergeVisble Copy & Take to AS paste as new animation
Hit CTRL L 19 timesSo you now have 20 frames again
Edit > Select all
Minimise these frames

Now open the snowfal animation
Edit > Select all
Drag the snow from the first frame across to your background scene
Place Inside the perimeter of your scene
Go back to the empty animation frames
Edit > Undo DragAnd Drag once more to fill the rest of your scene.
Now maximise your frame layers
From the first layer drag across to your scene frames
Place accordignly
Optimise wizard and save as



©Tutorial by Sunf of sunfindulgence any resemblence to any other tut is coincidental